During the month of March 2017, island and mainland residents were asked for their opinions regarding an IOW Fixed Link Study and also an IOW Fixed Link?

Outsourced professionals carried out the survey, which was overseen for impartiallity by the IOW County Press. The results were conclusive from 5000 people that completed the survey. There is an opportunity to read all the reasons why 5000 individual people, either did or didn't want a fixed link / study….. some are considered shocking.   Read the full 347 page report here. 
If you prefer to read the summarised survey reports from the local media along with readers comments, they are below: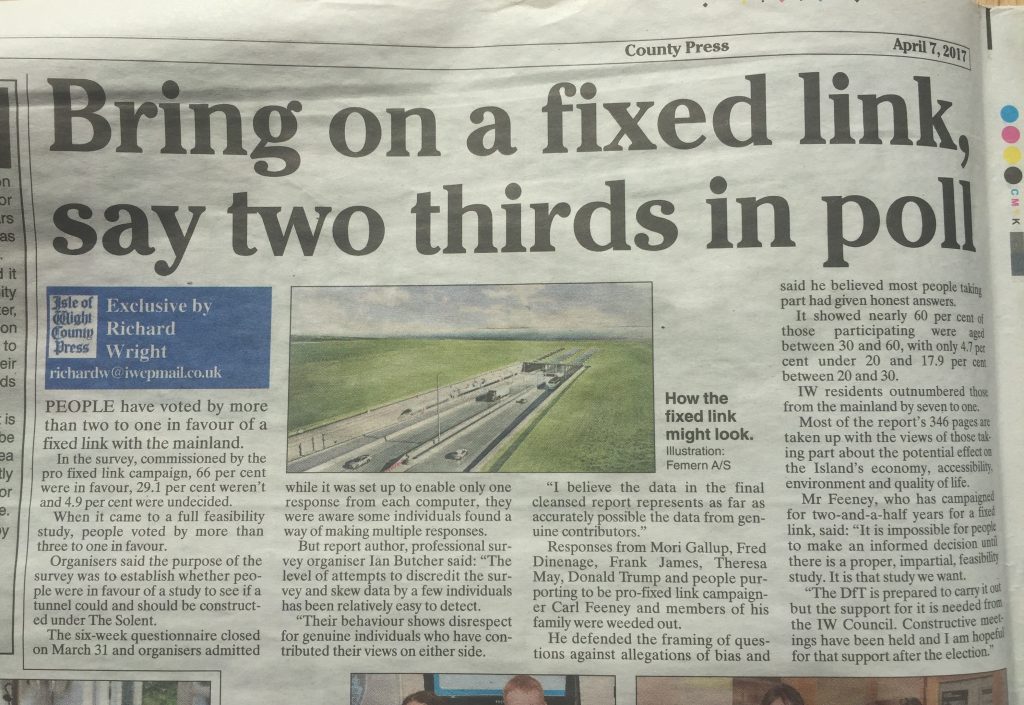 PRO-LINK thank the above media for promoting the survey to their readers on-line, in order to complete it.
The third most well known IOW news source – Isle of Wight Radio, refused to advertise the survey on the radio. PRO-LINK explained to them that in order to get the most accurate results, as many people as possible needed to complete it …. but assistance to promote it was refused.  Isle of Wight Radio also received the 'press release' of results,. They did not report on this very relevant news item… either on the radio, or on-line. This historic and present resistance of Fixed Link discussion, appears to be the endemic policy of any news media that is greatly controlled by the advertising premiums of the two ferry companies. The radio station has also now removed discussion programmes completely from its schedule, just concentrating on advertising revenue, quizzes and playing music. On air news and island topics of discussion have disappeared. Any news is now just on line…. along with more advertising.