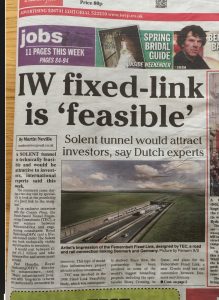 During the two years of campaigning, PRO-LINK have consulted tunnel and bridge construction experts.  In April 2015, the Managing Director of (Netherlands based) Tec-Tunnel – Hans de Witt, came to stay on the island to assess the potential Fixed Link situation, along with Infrastructure specialist Paul Hannifin – from Westminster based Royal Haskening DHV.
There were many conclusions:
There are several reasons why a Bridge is not suitable when compared to a bored tunnel to cross the Solent:
A bridge would be a hazard to shipping, especially in fast flowing tides.

Extreme height would be required to allow shipping to pass under.

Fog, ice, snow and storms could render the bridge unreliable to cross.

Maintenance of external surfaces would over time, cause the bridge to be the more expensive option.

The soft geology of the Solent Sea bed would cause bridge foundation structure problems.

The bridge would cause traffic noise intrusion.

The bridge structure would cause visual intrusion.

Both ends of the bridge would need to extend several hundred metres inland to allow for height gradients.

The politics of location due to noise and visual intrusion would be restrictively problematic.
---
There are several reasons why an immersed tube tunnel is not suitable to cross the Solent
The Solent seabed is not plateaued but undulating, which renders dredging a level straight line difficult and prohibitively expensive.

Over a certain length (the width of the Solent), the immersed tube tunnel option is more expensive to construct than bored tunnels.

Dredging trenches on the Solent seabed for the tunnel elements, will cause significant environmental damage with disturbed sediment carried in tidal streams.

A large coastal construction basin would need to be formed to create the tunnel sections in an area of restricted deep water options.
---
There are several reasons why the bored tunnel construction option is especially ideal for crossing the Solent: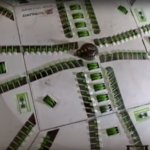 There is no disruption to the Solent sea bed at all, causing no environmental damage in the Solent waters.

The portals can be located inland within the least environmentally sensitive areas and near existing road infrastructure.

The portals are able to be unobtrusively landscaped to minimise visual impact.

Click photo to understand how a Tunnel Boring Machine works.

The construction sites can be contained within the portal areas, which can be landscaped retrospectively.

The tunnel spoils can be easily managed with little environmental implications.

The "cleaned" spoils have potential to be used as base material for land reclamation projects and construction products.
---
But why a road tunnel and not a rail tunnel?…..Read more