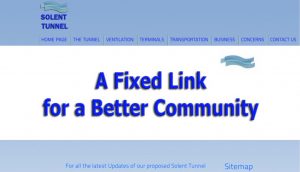 In November 2014 the first fixed link website was developed in order to inspire debate and discussion on the subject. These ideas were published to portray a completely different transport scenario to that which the Isle of Wight has at present.
The portrayal included a large single tunnel that carried two way single lane contraflow vehicular traffic – a standard gauge train line and a service lane.
Conduits for utility and communications were also included. 
The train met a monorail terminal at the Arreton island portal.
The monorail had the ability to stand elevated above the historic Victorian railway lines which are now cycle tracks and also above a severely deteriorating presently operating "Islandline" railway system, which presently operates with 70-80 year old "rolling stock".
The tunnel portals were positioned in the garden of a grade listed Abbey at Tichfield on the mainland end and at Arreton on the island, which has notoriety for residents being protectionist over the local green belt. The web site had the desired effect shock, which created fixed link discussion.
Some news media links to see feedback were: