SUMMARY 
PRO-LINK believes that the radical repositioning and replacing of the East Cowes and Fishbourne vehicle ferry terminals  ….. to a tunnel portal at Whippingham, presents incredible opportunities to reduce congestion and provide 24 hour,  free flow of personal and public transport. The mainland has incredible opportunities to enjoy even greater benefits within the proposed scheme… but this particular web page concentrates in summary, on just some of the island benefits. 
PRO-LINK is suggesting a scheme that will provide road based personal and public transport… 24 hours a day, 365 days of the year. There will be no requirement to book and there will be no schedules. The flow of traffic will be managed via ANPR, CCTV and GPS tags. Toll payments will be automated and there will be no requirement to stop. Traffic from Whippingham will travel 11kms (8 minutes) to the first exit portal option at the mainland coast near Lee-on-the-Solent… or alternatively, progress 3.9kms (4 minutes) onwards along with mainland traffic underground, to the third portal …. 900 metres from the M27

.

Traffic will literally disappear between Whippingham to the M27.
The PRO-LINK ideas are designed to stimulate sensible and constructive responses and comments, which can be submitted and published at the end of this page. It is intended as a form of initial public consultancy.
Once the Fixed Link scheme has been finalised both on the South and North island ("mainland")… viability first and then environmental and social impact studies will need to be undertaken.
---
---
The first four maps below, show the existing routes that take delivery HGV traffic to industrial zones to the West of the River Medina. Point 'B' on the map, is the location of the proposed Solent Tunnel portal. Point 'A' is the location of the road connection to Lushington Hill :
Existing distance from East Cowes to Somerton via Coppins Bridge in Newport = 14.3 km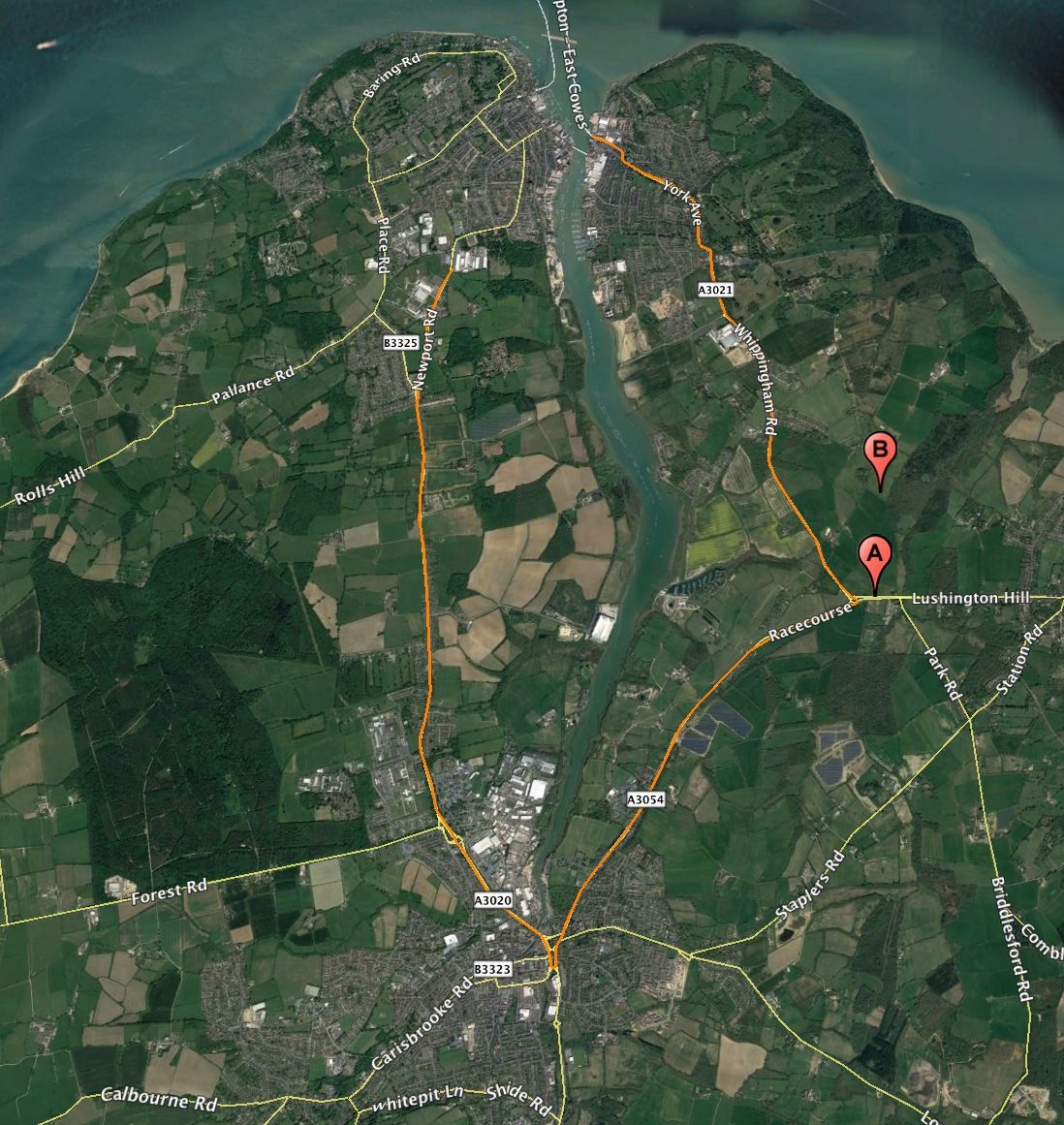 Existing distance from Fishbourne to Somerton via Coppins Bridge = 13.6 km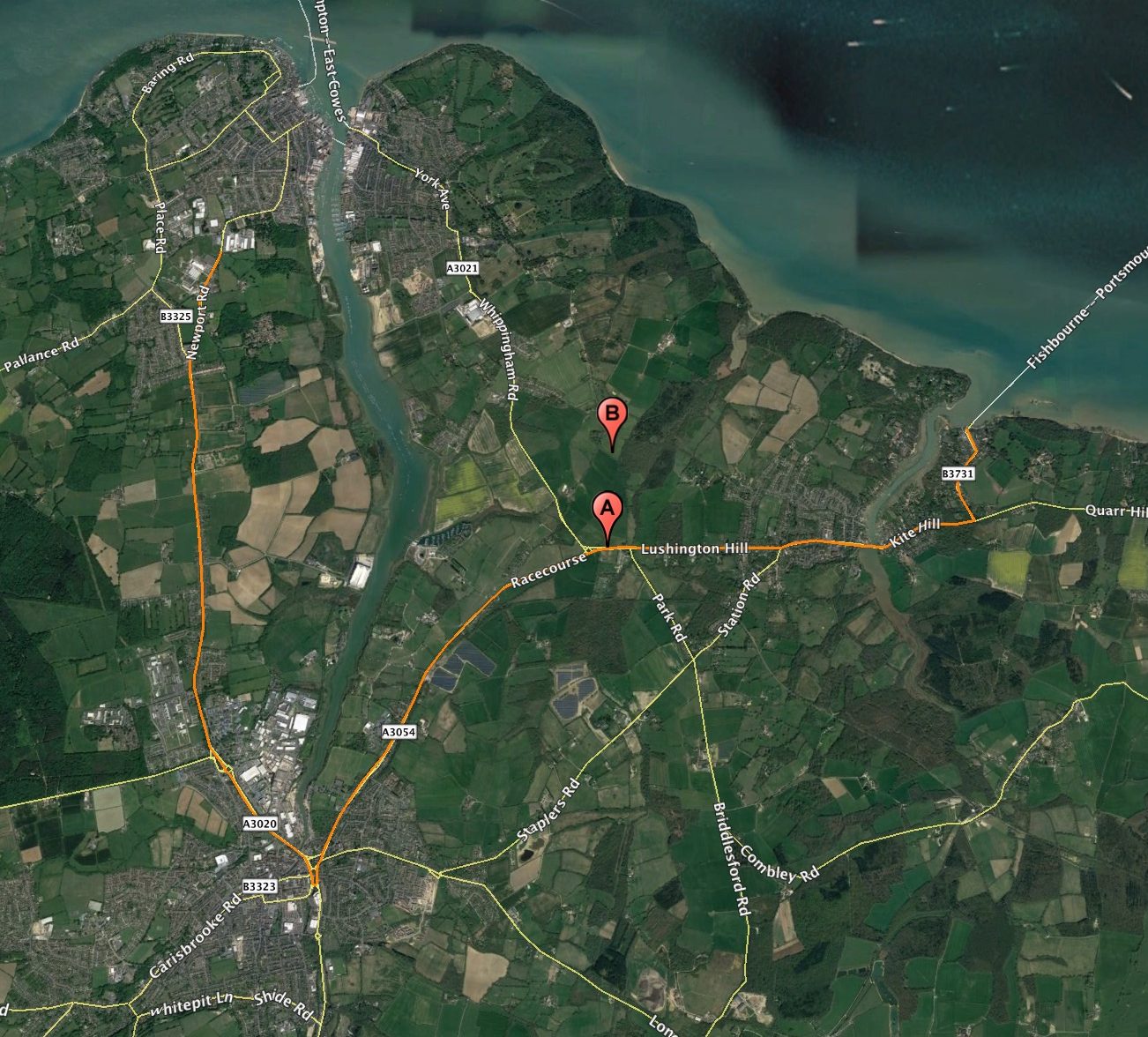 Existing distance from East Cowes to Dodnor roundabout and hospital via Coppins Bridge = 9.75 km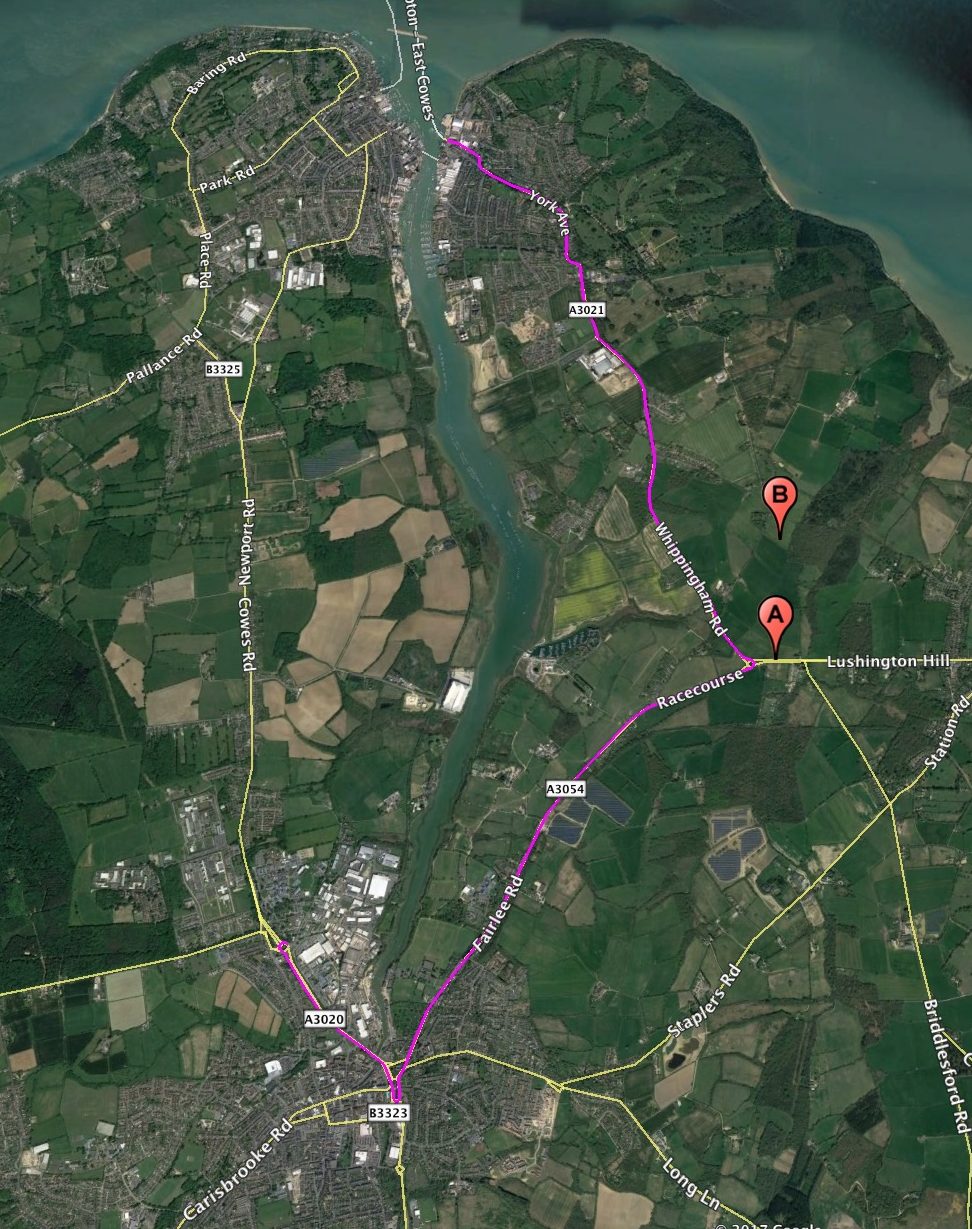 Existing distance from Fishbourne to Dodnor roundabout and hospital via Coppins Bridge = 9.13 km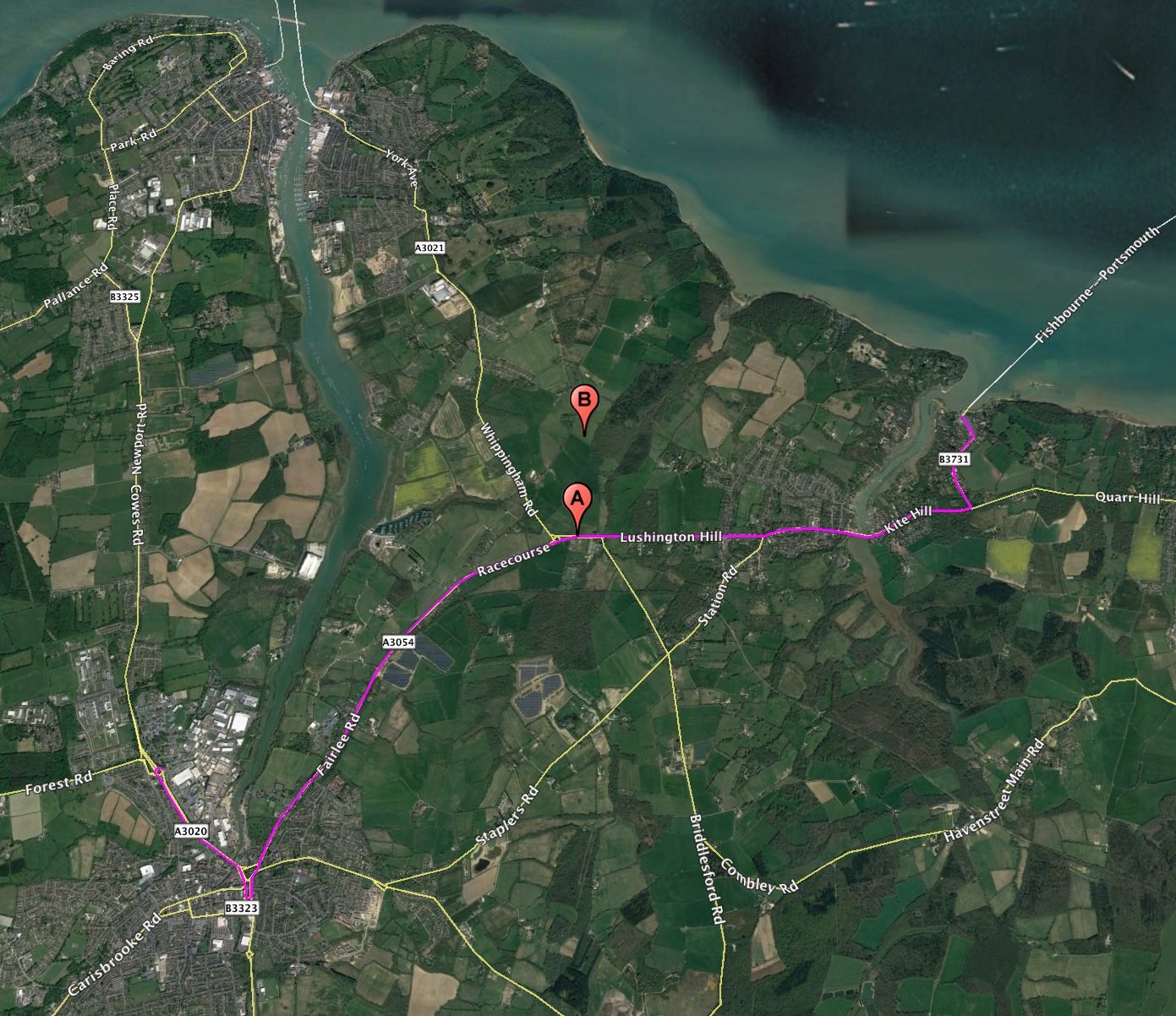 ---
---
The two maps below, show the route should a Medina River crossing be constructed between existing Stag Lane and Fairlee Road, to the West . The two routes shown, are from the existing ferry ports at East Cowes and Fishbourne:
Distance from East Cowes to Stag Lane junction (8.22) to Somerton (2.83) = 11.05 km) and to Dodnor (1.8) = 10.02 km)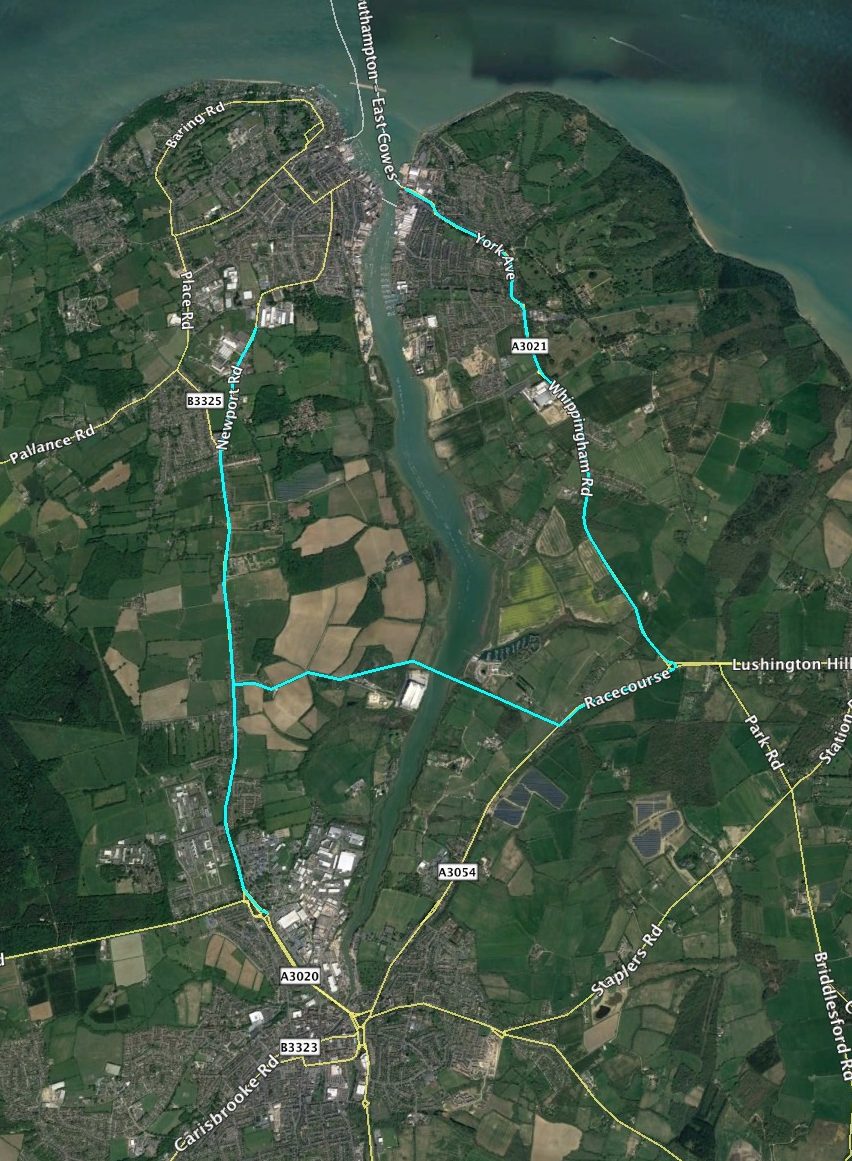 Distance from Fishbourne to Stag Lane crossing (7.67) to Somerton (2.83) = 10.5 km) and to Dodnor (1.8) = 9.47 km)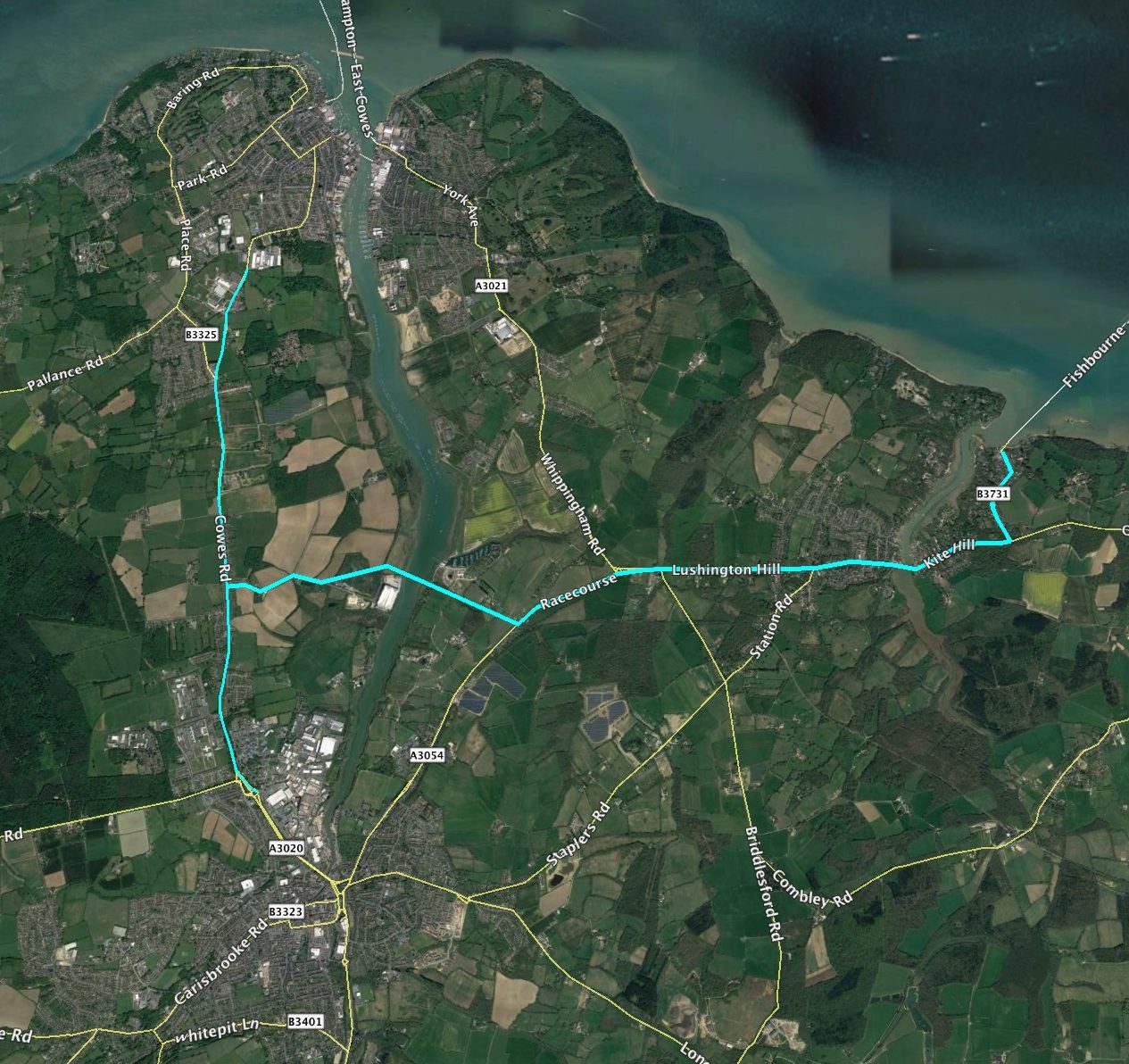 ---
The map below, explains and shows distance savings for journeys from tunnel portal "B" to the zones of Somerton and Dodnor to the West of the River Medina while using the Medina crossing, when compared to the existing ferry ports:
Distances from portal B to Stag Lane Junction (4.53)… further to Somerton (2.83) = 7.36 km)… and to Dodnor (1.8) = 6.33 km)
The distance saving from the portal "B" to Somerton when compared from East Cowes (14.3 – 7.36) = 6.94 km = 48% saving on distance
The distance saving from the portal "B" to Somerton when compared from Fishbourne (13.6 – 7.36) = 6.24 km = 46% saving on distance

The distance saving from the portal "B" to Dodnor and hospital when compared from East Cowes (9.75 – 6.33)

= 3.42 km = 35% saving on distance
The distance saving from the portal "B" to Dodnor and hospital when compared from Fishbourne  (9.13- 6.33) = 2.8  km = 30% saving on distance 
The Portal position at Whippingham will create an average 40% distance saving as compared to using existing ferry ports. Even without a Medina crossing, the distances saved will be considerable.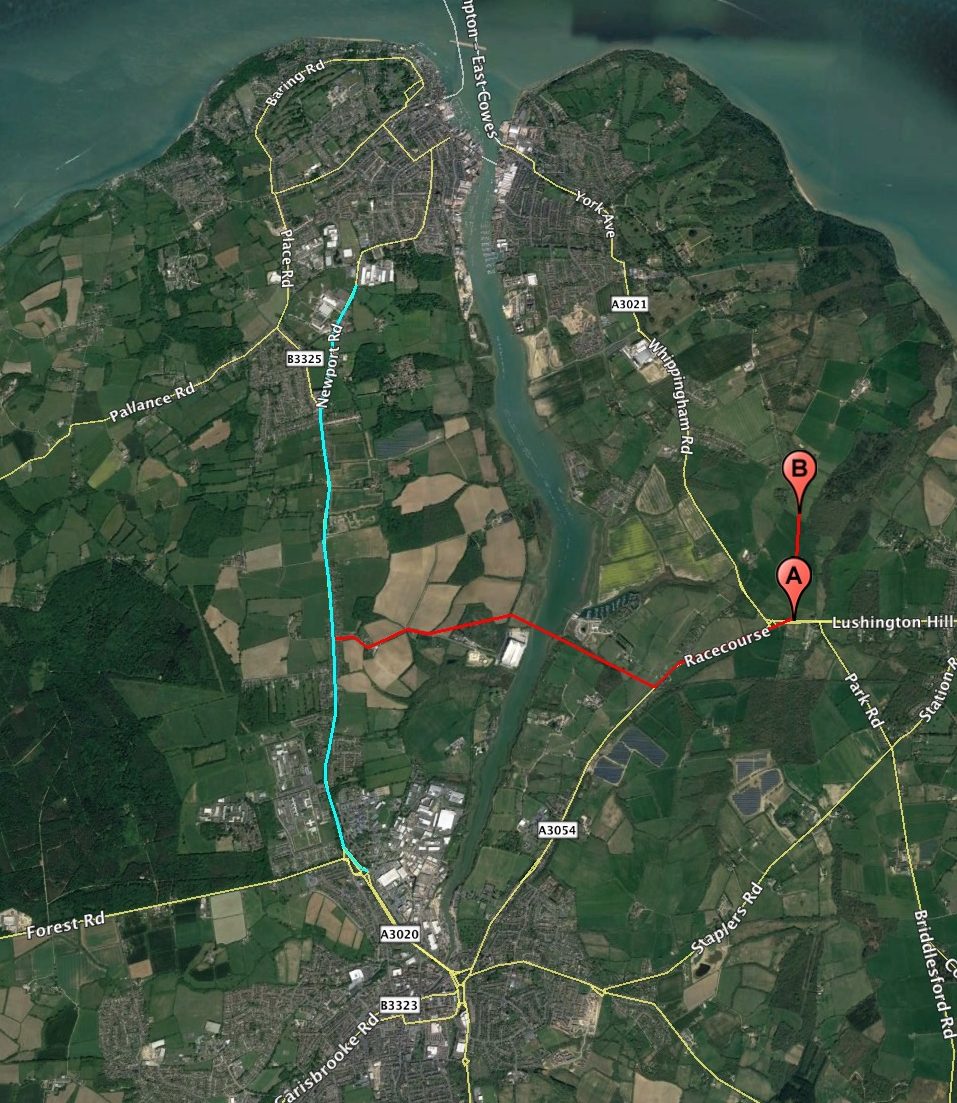 Benefits of the Whippingham Portal position, when compared to East Cowes and Fishbourne ferry ports:
General reduction in South and West bound journey distances by road.

Considerable reduction of traffic using the East Cowes Road.

The ability to easily connect an ongoing tourist rail link to the portal area, which is not possible with the ferry port positions.

Opportunities to regenerate East Cowes and Fishbourne sensitively with no requirement for marshalling yards.

Future proofing for efficient, autonomous modes of personal road based transportation and automated public transportation.

Environmental benefits considering the removal of polluting stationary and marshalled HGV traffic at ferry ports.

Environmental benefits considering the removal of noisy marshalled traffic / refrigerated units at ferry ports.
Theoretical disbenefits of the Whippingham Portal position, when compared to East Cowes and Fishbourne ferry ports:
A longer journey distance to East Wight when compared from Fishbourne Ferry Port. The extra distance = 3km from the portal to Fishbourne.

The utilisation of fields at Whippingham to construct the portal, access roads and public transport terminal.
---
Opportunity to extend the Steam railway line to the "Lushington Transport Hub" = 0.92 km
The extension of the railway line would finalise South of Lushington Hill road.

Passengers would be able to board having arrived by bus or taxi through the tunnel and visa versa.

The new Steam Railway Station would offer a tourist schedule of between 30 minute and one hour intervals. It would integrate within the new "Lushington Transport Hub" that would transfer the "dedicated tunnel transit bus" passengers to other options of electric car / electric bicycle hire… a bus terminal to travel onwards to destinations with the now more viable island bus service… and also a taxi rank.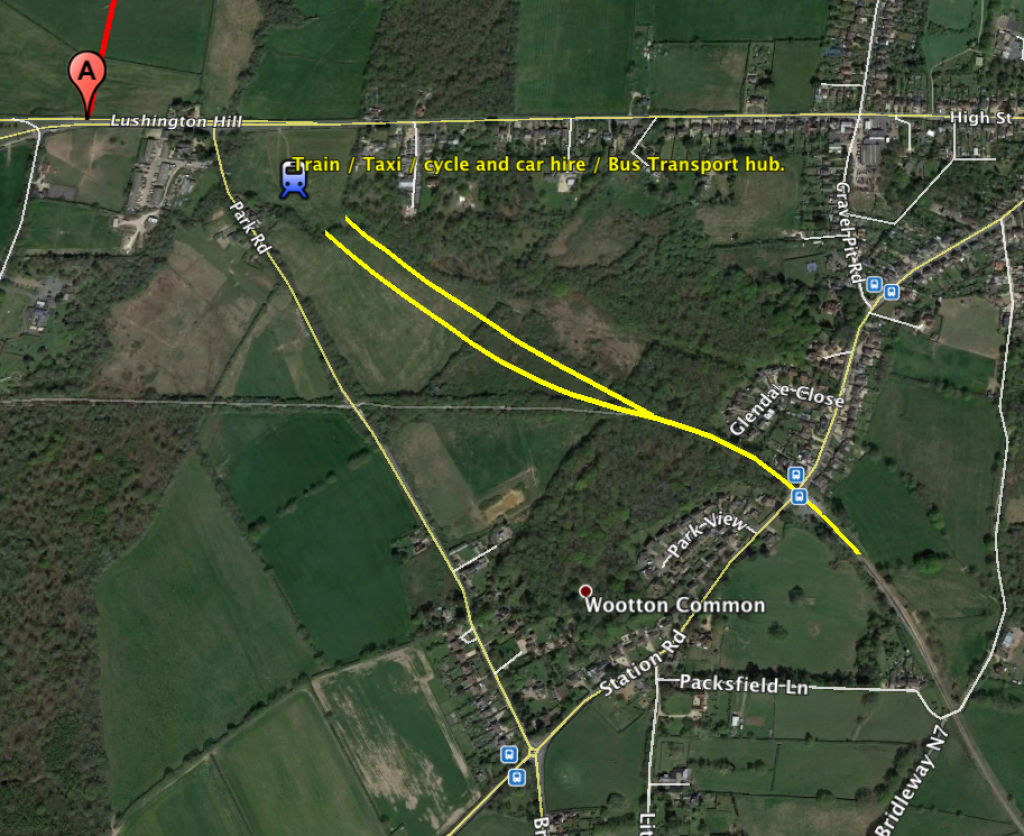 Benefits of the "Lushington Transport Hub".
An ideal opportunity to produce multi mode public transport at point of portal entry or exit using primarily existing routes.

Immediate passenger transfer from transit bus or taxi to multi mode transport at point of portal entry or visa versa.

There is a significant possibility that the Steam Railway will continue on to Ryde St Johns. (Discussions are continuing now)

Tourists, etc can transfer to Island line trains at Smallbrook, to continue on to Shanklin perhaps. 

A potentially viable train alternative to road based transport to / from more populated areas to / from point of portal entry.

A scenic train journey destination for tourists.

No compulsory purchase orders on homes or businesses envisaged in order to construct the hub or railway line.

Financial success for the Havenstreet Railway Charity.

As the work to provide the rail may be considered too expensive initially, it may need allowances to be done retrospectively.
In the case of "9" being applicable, transport from the "Hub" to Wootton Station, may be the initial solution.
Theoretical disbenefits:
A rail crossing will need to be re-established at Station Road in Wootton with considerable excavation required. A cut and cover tunnel may be required to connect East and West of Station Road. 

The cycle lane will need to be re routed or the track area made wider to accommodate cyclists / walkers.
---
The vehicular Medina Crossing with combined dedicated lane for pedestrians / cyclists = 1.92 km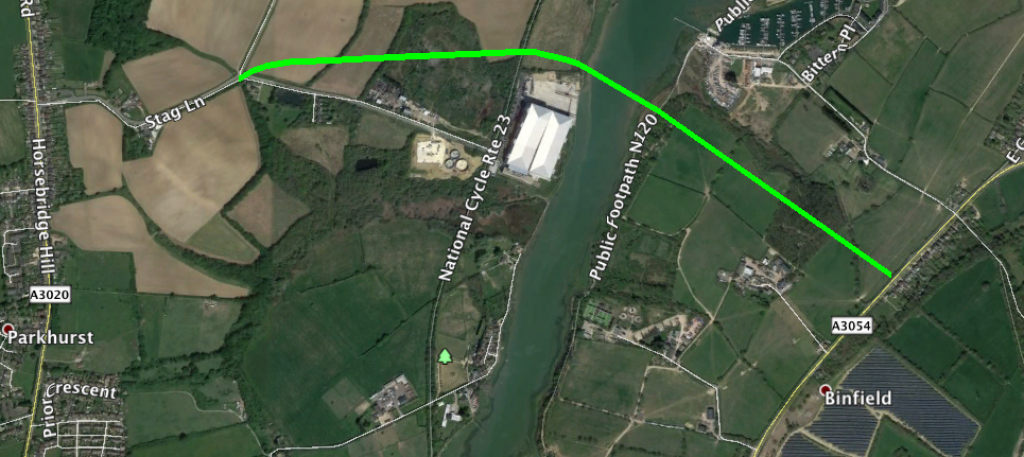 The Benefits:
NE – NW traffic will be directed away from Coppins Bridge in Newport.

Considerable time savings on journeys.
---
Cycle / foot path connection from East to West across the Medina = o.4km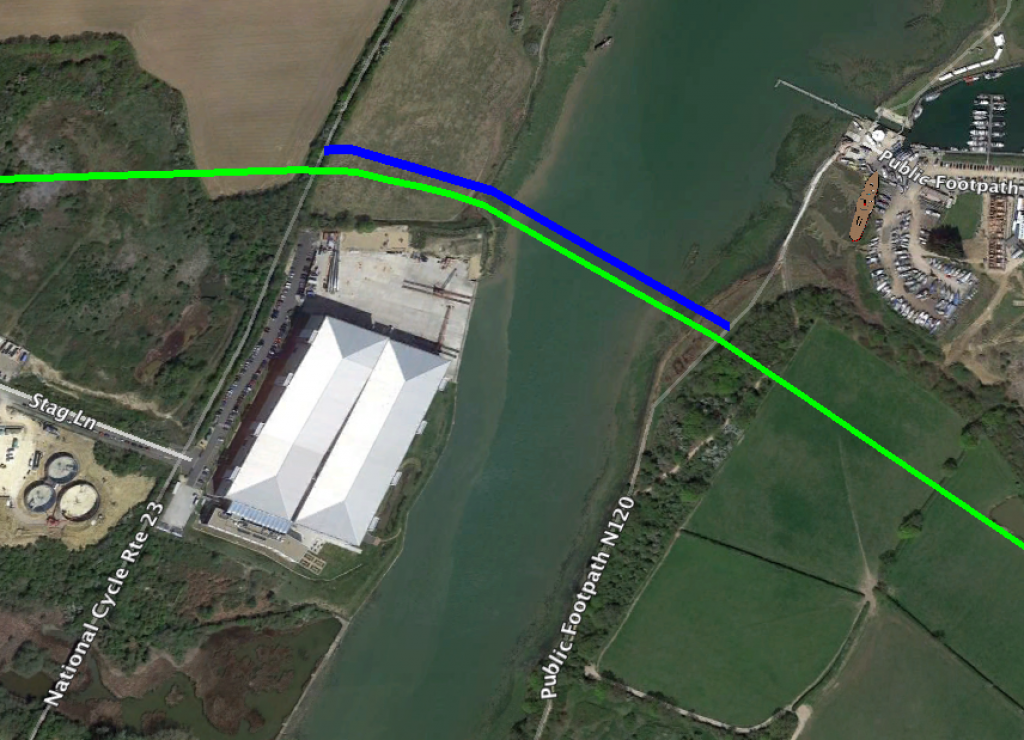 Benefits:
The provision of a dedicated cycle / walking track will create a healthy alternative to driving between North East and North West Wight.

Provides a quick connection between two arterial cycle routes.
---
Upgrading the "racecourse" road to provide Dual Carriageway = 1.1km

Benefits:
Provides the capacity to cope with Newport and Medina Crossing bound traffic.

Dual carriageway will not be required once the traffic radiates at each end. 
---
 Road improvements to Park Road at Wootton = 1.1km

Benefits:
Road widening will create more capacity while maintaining safety.

Improved junction roundabout connecting to Briddlesford Road.
---
Overview of personal and public transport improvements….
The Medina Vehicular crossing, connecting Fairlee Road with Stag Lane (Green).

A new section of Dual Carriageway (Orange).

Provision of cycle track and walkway across the Medina (Blue).

An extension to the original railway from Station Road to the "Lushington Transport Hub" (Yellow).

Improvements to Park Road (Magenta).

Tunnel Portal at "B".

New roundabout junction to provide capacity for tunnel traffic at "A".

Dual carriageway from B to A.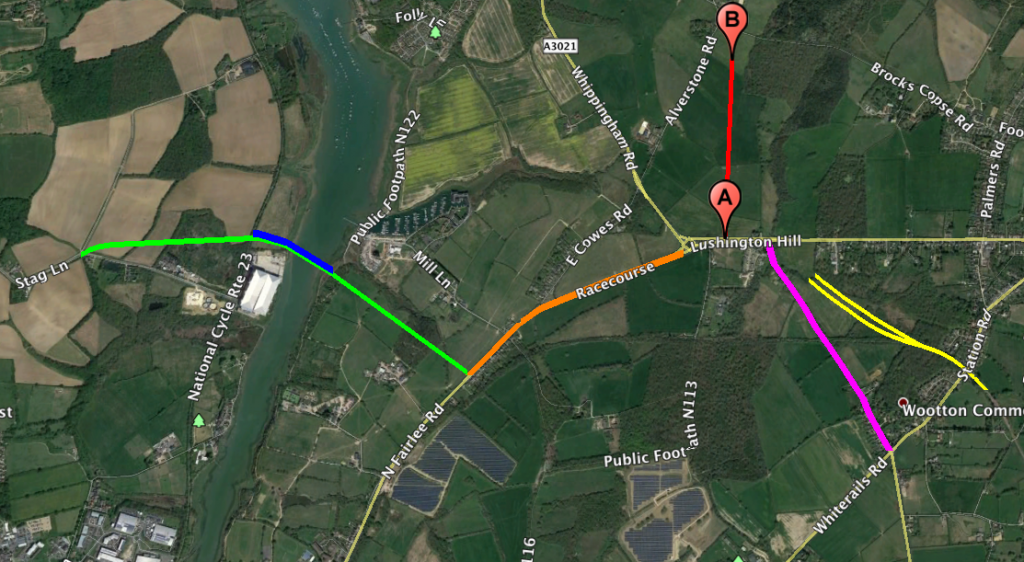 ---
"TRAFFIC MANAGEMENT
The attached spreadsheet of predicted traffic flow, suggests a doubling of the present day average total ferry vehicle movements between the mainland and island from 5,700 units to just under 12,000 per day including HGVs. To control and manage the increase in traffic flow on the island when the fixed link tunnel is opened, the traffic management remedies proposed are:
• TM1 – The construction of a Medina vehicle crossing.
Included in the Fixed Link "Package" will be included a "Medina vehicle Crossing" (most likely, a bridge). The location required will be from Fairlee Road mid-way between Newport and Whippingham, to cross the River Medina towards Stag Lane. A connecting contraflow road would be required to be constructed on Eastern side from Fairlee Road. A small connecting contraflow connection on the Western side will also be required to Stag Lane. In order to pay for this infrastructure capital, it may be necessary to make a small "crossing charge" for each vehicle. Cyclists and pedestrians would be free. Once the capital has been paid off (expected 15-30 years), the crossing fee would no longer be necessary. The charge would need to be assessed. This crossing will alleviate much of the North West to North East traffic and visa versa that presently causes traffic problems at Coppins Bridge in Newport that subsequently can bring the area to gridlock. It is considered that the benefits to the IOW economy of this crossing will be enormous.
---
Page 7
• TM2 – The construction of an East to West Cowes Pedestrian Subway. 
At present, the infrequent and sporadic timing of the "floating bridge" which connects East Cowes to West Cowes for both vehicle and pedestrian crossings causes a bottleneck of traffic. At around midnight each day, this (charged for) service ceases to operate till around 6am. During this time anyone wishing to cross the River must journey some eight miles or so to cross a distance of 200 metres. The construction of a one-piece immersed tube pedestrian subway at this location will replace the floating bridge at East Cowes, offering an immediate 24-hour availability of crossing. This will create opportunities for East Cowes to become as successful as its neighbour to the West including 24-hour access to the Red Jet "high speed" option of crossing the Solent to Southampton.
• Both TM1 and TM2 will have an initial charge rate of use until the capital outlay is paid. The two Medina crossings have no need to be staffed even at the initial toll charge stage, as automation will be simple to implement.
• TM3 – The fixed link tunnel will offer concessionary rates if used between the hours of 2am to 5am.
• TM4 – Heavy goods vehicles will be surcharged if using the tunnel at busy commuter times of 06.30 – 09.30hrs and 16.30 – 18.30hrs.
• TM5 – Islander first homeowner only annual permits (on the IOW electoral register) will be offered at a rate not exceeding £2,000 for a standard family car. This will give two return journeys per day usage for those wishing to commute. This will allow vehicles to exit from the island while visitors enter, maintaining a balanced flow of traffic. Two types of permits can be offered – a full permit at £2,000 or a discounted permit, which will only allow crossings out of commuter hours similar to TM4. This should help "spread" the traffic to avoid surges.
• TM6 – The Island will be annexed as a peninsula. Therefore traffic will not be entering the island to go elsewhere which would otherwise cause through traffic problems in other areas.
• TM7 – During "peak tourist periods", which will be stated in advance, a higher toll tariff will be employed to vehicles that are not registered as island based vehicles. This higher toll will be waived only if the vehicle owner has registered a "pre-paid accommodation booking" on the island. A web site based medium that island accommodation providers will need to register to, will discount the toll to a normal rate. This way, only those who have proven legitimate tourist related reasons to visit the island will pay the lower rate. Anyone else has two options: A/ pay the higher toll rate or B/ catch the bus through the tunnel, to continue on their journey by bus or be picked up by alternative transport, at the bus drop off point.
---
Page 8
• TM8 – Bus or taxi travel (most likely electrically powered at that stage) direct from major IOW towns to either Fareham train station, London, Eastleigh airport, Southampton, Portsmouth, etc. will offer a chance for people to leave their own vehicles at home. This will avoid the parking congestion that commuters cause at present, near ferry terminals on both the island and mainland. This increased electric bus activity will also make the island bus company viable to again provide public transport infrastructure to the villages that have had their bus routes removed. As more services are provided, more people will use the public transport buses, which will remove the single driver vehicles from the roads. With more people using the buses, fare prices will be liable to decrease. A license will be able to be bid for, with which to operate the service through the tunnel to incorporate pledged routes on the island.
• TM9 – Only businesses registered as island based, will be offered annual permits. The prices will depend on the size of vehicles. This will allow island business vehicles to exit the island on essential business, while non-island business vehicles will be subject to standard priced return toll charges.
• TM10 – "Automatic Number Plate Recognition" (ANPR) systems, combined with CCTV, car transmitters and on-line payments will create a seamless journey across the Solent, with no reason to stop the vehicle. (Similar to London congestion charge).
---
Please leave any constructive comments in the comment box below? 
Many thanks for your participation.