Mr Andrew Turner – the islands' MP until May 2017, appeared to be highly misinformed. Eventually he changed his mind in 2016, agreeing that the fixed link option needs to be explored.
There several faults with his statements in this article below in the IOW County Press:
Siting options for Fixed Link Tunnel Portals have already been established as viable for up-to-date radiating traffic infrastructure including a vehicular Medina crossing and pedestrian Medina subway at East Cowes.
Traffic Management options have already been established which would alleviate existing traffic and parking problems in East Cowes, Fishbourne, Southampton and Portsmouth.
PRO-LINK have already had positive feedback from mainland councillors with regard to an IOW Fixed Link Tunnel Portal being placed in their area if other infrastructure can compensate.
A bored tunnel has minimal maintenance costs and does not interfere with shipping, even at the construction stage…… in point of fact, far less so than the present day, constant cross Solent ferry movements.
IOW County Press 2015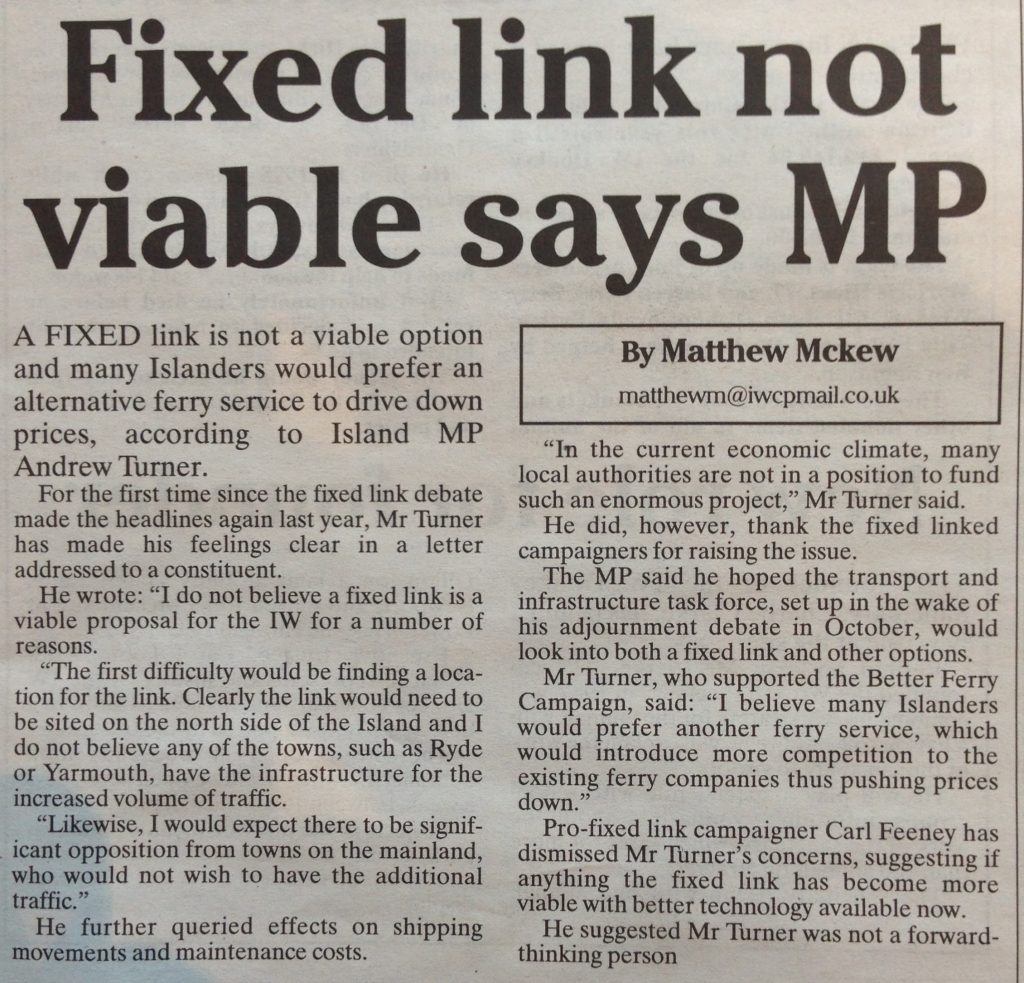 ---
PRO-LINK believes that the MP was completely at odds with the feelings of islanders…. they would simply not prefer a third ferry company. 
There are several reasons why we believe this to be the case:
A third ferry company would be as unreliable as the existing ones… prone to mechanical breakdowns, fog, stormy weather, staffing issues, etc.
A third ferry company would still require passengers and businesses to make bookings in advance, wait in marshalling areas, be subject to unreliable timetables and not have access to 24 hour, 365 day…. fast, immediate cross Solent, seamless transport.
In 2021, the 'IOW Community Information' Facebook group, created a poll to get an indication of whether islanders would prefer a fixed link or a third ferry company, after an island consortium announced ideas of creating a third vehicle ferry company.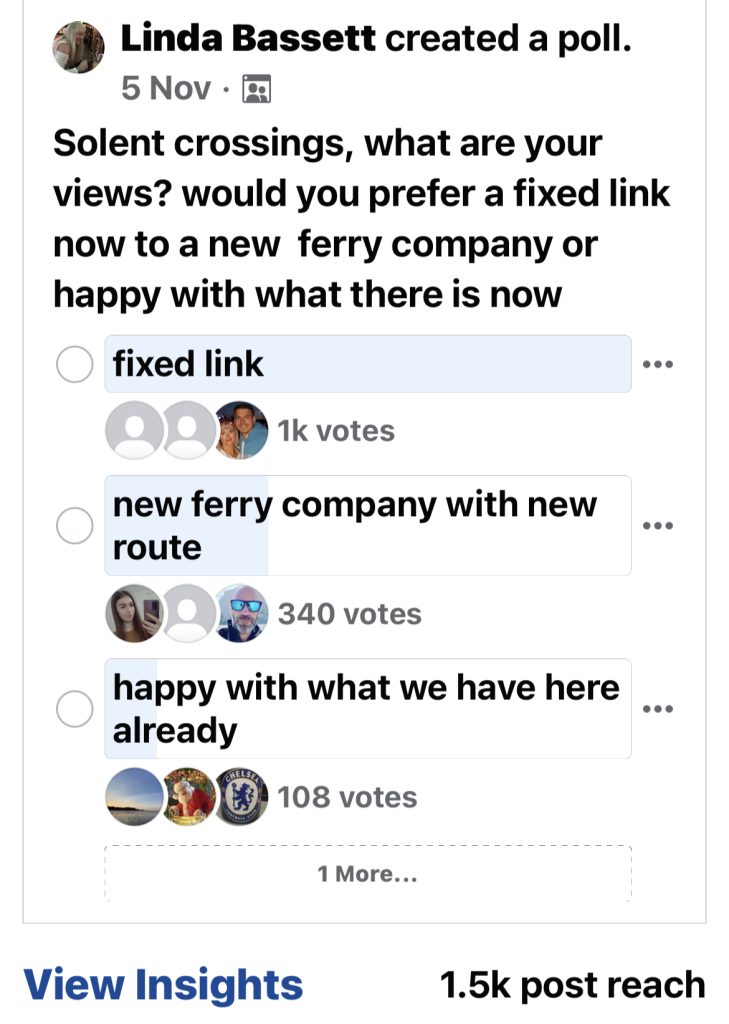 Again, the overwhelming support was for a fixed link. The actual poll can be viewed here or click the photo.
PRO-LINK believes that the MP had not thought his statements through:
A third ferry company would require coastal 'all tide' deep water, protected ports at both island and mainland ends of route…. there are none existing, though on the island at 'Ryde House' grounds to the West of Ryde Pier has historically been considered the only available coastal land plot for a potential vehicle marshalling yard. However, in such an area of historical and environmental sensitivity, it is considered unlikely dredging and construction above the sea-bed to allow suitable ferry berths would be entertained.
A third ferry company would not offer any advantage over the existing ferry companies in terms of speed of crossing. It would also be unlikely to compete substantially in terms of price…. Red Funnel and Wightlink made a combined profit in 2015 of £25million. Their combined turnover was £105million with overheads of £80million between them. They could only possibly reduce their prices by approx 26% before they run at a loss. By comparison, a third ferry company would therefore only possibly be able to reduce existing ferry fare prices by a small margin. If the setting up of the new ferry company required loans, the interest payments may cause the new company to actually charge more.
A third ferry company would divide existing cross Solent traffic by 3 instead of 2 as at present. This redistribution of traffic would lessen the viability of each company to the extent that they would ALL need to charge a higher than at present individual fare, in order to compensate for the lower traffic numbers.
Both existing established ferry companies would seek to undercut the third company until it became bankrupt.
---
However, having considered the situation more thoroughly…. the EX island MP stated this below in his submission to the IOW Transport Infrastructure Taskforce during late 2016:
"THE FIXED LINK OPTION
The submission to the Taskforce by promoters of a fixed link option is now public.  However difficult and disruptive such a scheme might be – and this will ultimately be a matter for all Islanders (and indeed those affected on the mainland) to express an opinion on – it is probably the only radical way forward to break the duopoly of the two major ferry companies.  
I have been opposed to a fixed link for many years, wary of the fundamental changes that it might bring to the special and unique qualities that the Isle of Wight possesses.  I am still concerned on these points, but I now take the view that, if there are promoters willing to put their money is where their mouths are, the time has come to study more closely what the alternatives might be, how much they would cost, who would pay for the link and how it might change the Island's economy and Island life.
The present fixed link promoters appear on the whole to be in favour of a road-based link.  But if a fixed link option is to be properly examined, alternatives to a road-based system should be considered and I would hope the Taskforce would look at whether a rapid transit system could fulfil many of the connectivity requirements and offer up innovative "green" solutions to onward transport links on the Island.  The Taskforce could encourage further studies (perhaps through the Solent LEP) to take thinking forward and at least update the detailed study from 2000, embracing new technology and global experience since that date.  The Taskforce would undoubtedly find it useful to talk to those commercial organisations who believe that a fixed link between the Island and the mainland is both technically achievable and commercially viable."
To read the ex MPs complete submission to the Taskforce… Click Here
To view the new MP – Bob Seelys' thoughts on a fixed link
… Click Here
To view the Pro-Link submission to Infrastructure Taskforce … Click Here