The Isle of Wight Chamber of Commerce
The Isle of Wight Chamber of Commerce is clearly heavily influenced by each ferry company. Both Red Funnel and Wightlink have seats on the COC board and fund the COC heavily.
The Chairman of the COC – Steve Porter, owns the Red Funnel Freight business -Steve Porter Transport.
The President of the COC – Geoff Underwood manages and co-owns the 'Wightlink Raiders' Ice Hockey team, which is clearly sponsored by Wightlink.
COC Director – John Burrows is the CEO and soon to be the COO of Wightlink.
COC Director –Murray Carter is the Red Funnel Director of Customer Services.
Any member business of the COC , understands that the two ferry companies have access to scrutinise their business activities from within this institution. The member businesses would clearly benefit from a road based fixed link but the COC has continually stopped any debate regarding the Fixed Link concept….. Both ferry companies have a vested interest in resisting fixed link discussion within this institution.
No consultation has EVER been carried out by the COC amongst its member businesses regarding a potential IOW Fixed Link and how it would effect them? …. not once in its history.
During an IOW Radio "Friday Report Fixed Link Special" (the recording of which appears to have been "mysteriously" withdrawn from the radio station website), the CEO of the IOW Chamber of Commerce – Kevin Smith, is heard constantly praising both ferry company services, much to the contrary of the other debating parties and the general public…this could be listened to on the link above.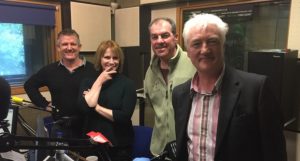 Kevin also explained that the way forward to alleviate the high ferry fares and reduced schedules rather than having a fixed link, must be to subsidise the ferry companies with taxpayers money…. this is completely impossible of course. Government subsidies to top up the profits of unregulated and privately owned, commercially run shareholder companies, is simply not possible.
A Business Magazine interview with the then CEO of Wightlink Ferries – Russell Kew, states that he and Wightlink are instrumental in influencing the IOW Chamber of Commerce.
An extract from the interview;
" A board member of the Solent Local Enterprise Partnership, Kew also chairs the Solent Local Growth Panel and the Solent Local Transport Body (SLTB) as well as being on the board of Shaping the Future of Portsmouth and the Isle of Wight Chamber of Commerce. "If the Isle of Wight is more successful, we all win – Wightlink, residents, visitors and businesses."