There have been many attempts in the past to construct a fixed link to the Isle of Wight…… what makes the difference now?
Social media has overcome traditional television, newspaper and also radio misrepresentation of facts caused by the ferry advertising revenue influence.
 "The IOW Fixed Link Tunnel Campaign" Facebook group has helped discussions since November 2014. Please join…
Tunnel Technology – Tunnels, cctv, automatic number plate recognition systems and the Internet are now and have been for many years, replacing the inefficiency of Ferries over short distances of travel.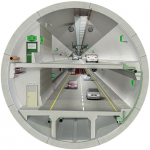 As an example of what is now possible, the Turkish Eurasia tunnel recently opened on 20th December 2016. It has very similar distance and geology circumstances to the Solent crossing, has a £3 charge for average of 120,000 vehicles per day to use and cost just £1billion to complete the 14 km project. The 12,000 vehicles that are estimated to use the Solent Freedom Tunnel will need an average toll of £30 (including HGV's) to compare with the Eurasia Tunnel toll revenue. The average toll figure for the Solent Freedom Tunnel, as PRO-LINK have estimated in our submitted toll spreadsheet is £40.05. By these figures, the Solent Freedom Tunnel would be 25% more profitable than the Eurasia Tunnel. Because a double deck tunnel is limited in height which restricts HGVs, PRO-LINK believes twin bored smaller diameter tunnels are more realistic ….. Click Here to understand what new technology makes possible.
Discontentment – The IOW ferries have decimated scheduled crossings and raised prices beyond the reach of many.
The ferries can not be fixed. – Central government has explained they can not regulate the IOW ferry companies. The 'Better Ferry Campaign' had no success either as both ferry companies are under no obligations to adhere to any of their customers' wishes. The "IOW Transport Infrastructure Taskforce" has been set up as from July 2016, after months of correspondence with PRO-LINK, to hopefully help facilitate an independent IOW Fixed Link Study, funded by the DfT.