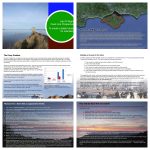 Despite the fixed link subject being on the discussion agenda for many island based businesses and institutions, the Isle of Wight Council has not responded. Initially at the beginning of the campaign, a small "Fixed Link Prospectus" was developed by PRO-LINK, printed as a booklet and given to the "Association of Independent Councillors" at a meeting with PRO-LINK. On the 17th March 2015, this prospectus was displayed at a "Riverside Centre" council meeting, where a fixed link presentation and debate ensued… mostly very positive. The Council then mysteriously went very quiet on the subject two weeks later….. it was not to be discussed any further.
Just prior to this apparent change of heart, PRO-LINK became involved in discussions with Mr Chris Wells (IOW Council Principal officer – Transport Policy and Strategy) who had made the presentation. On the 18th March 2015, a very jovial email responded to our request for a meeting with him. PRO-LINK replied and agreed the date to meet and asked that the meeting should discuss how we can all work together to get the IOW Fixed link included in the "National Infrastructure Plan" which at present, has no mention of the Isle of Wight at all.
*
Mr Wells response was on the 30th March 2015;
"Many thanks for your email and follow up call. I'm sorry for the somewhat tardy response.
The council has no policy to pursue a fixed link and Im therefore not able to provide the support and assistance you are seeking.
We do however have a corporate objective to ensure we have secure, accessible and affordable cross Solent travel and as I think I explained during my presentation at the Riverside Centre, we are currently pursuing this through the establishment of an Island Infrastructure Task Force, about which we are currently in discussions with the DfT.
I hope this helps.
Kind regards
Chris"
Mr Chris Wells | Principal Officer – Transport Policy and Strategy
Planning and Regulatory Services | Isle of Wight Council | Seaclose Offices| Fairlee Road | Newport | Isle of Wight | PO30 2QS
Tel: (01983) 821000 Ext 8574| Fax: (01983) 529386| Email: chris.wells@iow.gov.uk | Web: www.iwight.com
*
16 months after receiving this email, the "IOW Transport Infrastructure Taskforce" was eventually set up. This was only done after "Freedom of information" requests were sent to the IOW Council by PRO-LINK to find out if the Taskforce had been set up? It had not been. Now it has been, PRO-LINK have submitted its statement describing the outline of the Fixed Link Tunnel plans.