VIOW ("Visit Isle of Wight" is the IOW Tourist Board) 
PRO-LINK believes that very important Tourism on the Isle of Wight is suffering a depletion in attraction footfall numbers and hotel bookings for the now more popular shorts breaks, due to difficulty of access and high travel costs to and from the island. It appears the two ferry companies have great influence to block fixed link option discussions within VIOW. The Visit Isle of Wight Board of Directors has:
Red Funnels' 'Marketing and Communications Director' – Jonathan Green, as 'Chair of VIOW Marketing Panel'.
Wightlinks' 'Head of Marketing' Clive Tilley is 'Vice Chair of VIOW' and 'Chair of the VIOW Tourism Development Panel'.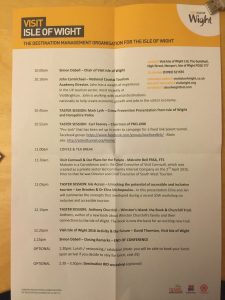 The two ferry company representatives will also have influence over IOW Councillor – Shirley Smart, also a VIOW Director, who is also IOW Councił Executive Member for Public Transport, Tourism, Recreation and Heritage . It appears that each ferry company representative can heavily influence policy decisions regarding the Isle of Wight Tourist economy, which most likely will suit the best interests of the privately run companies over and above than the best interests of the Isle of Wight economy.
An invitation to the VIOW Tourist Conference by CEO David Thornton, for a quick slot opportunity (8 minutes is clearly not enough time) for PRO-LINK to get the fixed link message across, appears now to have been a tactic to subdue the PRO-LINK fixed link campaign that had been stating publicly that the tourist economy can never revive, until ease of access is established for visitors. PRO-LINK believe the D-BID scheme that VIOW have now successfully driven through is only a very limited option, but without an IOW fixed link in the strategic pipeline…..D-BID will surely long term, be institutionalised as a further tax on businesses throughout the island, which will not actually solve the inherent problem of expense and ease of access for visitors. PRO-LINK believes a large proportion of the amounts of the compulsory tax collected, will only pay for the VIOW department:
Staff wages

Staff pensions

Staff holiday pay

Administation overheads

Travelling expenses

ETC
No open debate regarding a Fixed Link has ever been introduced within VIOW…. the two ferry companies ultimately control cross Solent travel and therefore, they control VIOW.