The SLEP (Solent Local Enterprise Partnership)
Until very recently, the "Business Director" of the "Solent Local Enterprise Partnership" (SLEP) – Russell Kew, was also Chief Executive Officer (CEO) of the Wightlink Ferry Company. The SLEP are a powerful body established by central government, to access and allocate where and when millions of £'s of devolved government business and infrastructure funding, should be spent in the Solent area.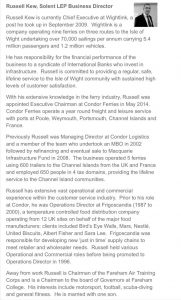 PRO-LINK discovered this apparent conflict of interest in August 2015, whereby Wightlink could clearly have their own business interests set above the common good of the area, including the Isle of Wight. Since then Russell Kew has changed companies to CEO of Condor Ferries, but still maintains a seat on the board of the SLEP.
Also, within the SLEP Board of Directors is the Leader of the IOW Council – Jonathan Bacon, who has confirmed to PRO-LINK that he would "move to Barra" if a Fixed Link was built to the IOW.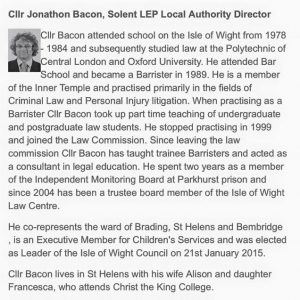 PRO-LINK have asked the SLEP whether it is appropriate to have the Leader of the IOW Council sat next to such an obviously powerful influence as an ex IOW ferry company CEO…… would a fair and balanced appraisal of an IOW Fixed Link be possible by the SLEP or the IOW Council in this situation? No firm answer has been received so far. Minutes from an SLEP meeting (page 3-4) appear to suggest that both Russell Kew and Jonathan Bacon had either pecuniary or non-pecuniary personal interests in the "Solent Gateways Plan". PRO-LINK believes that merely removing themselves from a single part of a meeting, does not prevent influential lobbying of other members of the board at other times. Discussions concerning an IOW Fixed Link option over and above ferry company issues would appear unlikely in this atmosphere of apparent prejudice.