Why do we need an Isle of Wight Fixed Link Campaign?
T

he PRO-LINK Campaign

 for an Isle of Wight Fixed Link, is to facilitate a means whereby islanders have a similar freedom of access to the opportunities and aspirations that others enjoy on mainland Britain.

PRO-LINK respect that for some, the uniqueness of being an isolated "island" population has been considered a blessing. However, two privately run ferry businesses….  profiteering at the expense of the islands welfare, can be considered an unattractive "uniqueness".
Evolution dictates the time has now come to change its path into the future. Cross Solent transport has to now adapt to the expectations of 21st century business, tourism, healthcare, education and social commitments.
Ferry crossing schedules have been severely reduced over the recent years, and fares have increased. This combination provides an unaffordable barrier for those on an average island wage to venture off the island.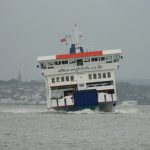 This barrier has now in the 21st century, caused a continuing spiral of socio-economic deprivation while the surrounding South East mainland enjoys vibrant success and investment. Continuing to have an interrupted coastline to distinguish its borders, the IOW will still be an island.
PRO-LINK believes that the natural topographical advantages of being surrounded by a stunning coastline, along with beautiful countryside will continue with a connecting road tunnel. With easy and reliable access, the Isle of Wight will become the most desirable place in Britain to live, visit and perform business.  With an Isle of Wight Fixed Link, it can be given the opportunity to be successful.
---
The PRO-LINK intentions are to:
We are campaigning to have access to a 24hr, 365 day alternative option to outdated ferries. A fixed link tunnel will enable people to make an immediate, reliable and seamless 4-10 minute vehicular journey ….. Read More
Establish why IOW institutions, MP and IOW Council continually and repeatedly are afraid to stand up to the IOW Ferry Companies, while the customers complain and the socio-economic welfare of the Isle of Wight suffers? Pages to explain what is happening are: 

Ferry Company Control

 and also 

The MP and the IOW Council.  
Facilitate the implementation of a new Government backed and independent , up to date Fixed Link Tunnel Feasibility Study. This will establish the best way forward for the island's cross Solent transport links. Details of PRO-LINK plans….
---
How are we getting on so far?
It has been a long haul, but we've managed to get more information out there,  more people and more authorities involved than ever before. Its going well …. Read more